2019 Impact
---
The Perfect Event for Prospective Home Buyers
For many young professionals working in Santa Barbara, the thought of "settling down" involves moving away from our beautiful beach town to somewhere with more affordable housing. When Alexandra and Andy Hamill first met, they didn't think they would be able to stay here either. "Starting a family in their one-bedroom apartment would not have been feasible," Alexandra said. Despite grandparents and other family members who tied them to the area, moving out of the area seemed to be their only option.
That's when Andy found out about one of Coastal Housing Partnership's Home Buying Fairs through his employer, Toyon. Toyon is one of more than 60 local companies that provides housing savings and benefits to its employees through an annual paid membership with Coastal Housing Partnership. These benefits include free home buying education as well as savings when buying a home, refinancing a mortgage, or renting an apartment.
"The Home Buying Fair was really helpful and encouraging, and that's when we started reading more about Coastal Housing and crunching numbers," Alex said. Once the couple realized home ownership in Santa Barbara might be possible for them, they started exploring their options and looking into buying a condo.
Alex and Andy started working with the Kevin Hall real estate team and lender Terre Lapman, both of whom are part of the Coastal Housing network. After saving up their own money and receiving a family loan for part of their down payment, Alex and Andy found their condo a few years ago.
Coastal Housing real estate agents and lenders provide savings to home buyers in the form of credits toward closing costs in the home buying process. "We wound up with no closing costs. That was huge," Alex said. "We're thankful that Toyon is part of Coastal Housing. It helped us stay in Santa Barbara!" The Hamills worked with Coastal Housing partners once again when they recently bought a larger house after having two kids.
Many people are daunted by the competitive real estate market in the area, and assume that home ownership is not a possibility for them. Coastal Housing Partnership's free education programs aim to making the home buying process simpler to understand and more accessible for a wide range of prospective home buyers.
This spring, Coastal Housing Partnership will host its 8th Annual Home Buying Fair on April 30th from 5pm-8pm at the Pierpont Inn in Ventura. Providing a no-pressure environment to chat with real estate agents, lenders, and other real estate professionals, this event is perfect for prospective home buyers who want to get their questions answered or shop for members of their home buying team. Come network, hear professional panels about the home buying process and the real estate market, and eat tacos at the Home Buying Fair!
For more information and to RSVP, visit homebuyingfairs.org or call the Coastal Housing Partnership office at (805) 969-1025.
"It is expensive but there are tools out there to help!" Alex said. "Don't be resigned to the fact that you need to move away. Look into ways you can stay here."
---
Announcing dates for our 2019 Home Buying Fairs
This year marks the 8th year of Coastal Housing Partnership Home Buying Fairs! These events are the best place to get on your path to home ownership, or to get your questions answered if you're already on your way to buying a home! Join us.
Attendees can network with dozens of local lenders, real estate agents, residential construction companies, and moving companies. Our Home Buying Fairs also feature 3 educational panels of real estate professionals that cover different home buying topics. And of course, we'll have tacos. 🙂 Save the date:
Tuesday, April 30th, 5-8pm, Pierpont Inn, Ventura
Wednesday, September 25th, 5-8pm, Deckers Rotunda, Goleta
Make sure to share this valuable event with anyone you know who has home ownership in their future! Looking forward to seeing you there!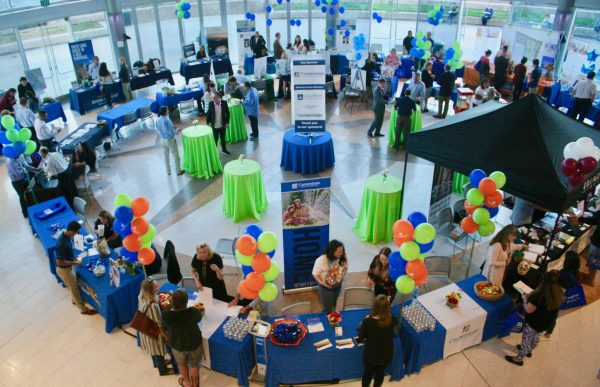 ---
Board Member Elena Mund makes Partner at Nasif, Hicks, Harris & Co.
---
"Going to that seminar was one of the smartest financial decisions we ever made…"
We LOVE hearing success stories from local employees who achieved their dreams of home ownership with the help of Coastal Housing savings. It's so inspiring – that's why we come to work every day! Here's one we received recently.
"Yes, I am a Coastal Housing success story!  We bought a beautiful 10-year-old home and moved in last June.
We attended a very helpful and informative Coastal Housing seminar at their Home Buying Fair, and we were very impressed by one of the featured speakers. It was Ruth Ann Bowe of Village Properties, and we chatted with her after the seminar.  We told her that if we were ever in the market, we would want her to represent us.  She kept in touch.
Later, we found out that we were going to have to move because our landlords were moving back from the east coast into their place here in Santa Barbara.  Thanks to the Coastal Housing seminar, our eyes had been opened to the possibility that we could actually afford a place in this very difficult market.  When we realized we had to move, Ruth Ann was there for us when we really needed her.  She and her assistant, Kristen, were both very kind, patient and helpful.  We later found out that her team had sold 4 different properties that month—ours being the least expensive by far—but they treated us as though we were their only clients.
Because my employer is a member of Coastal Housing Partnership, I was able to access its savings program. We saved several thousand dollars because of contributions from our realtor, the lender and even the inspection company. My fiancee's goddaughter also ended up purchasing a condo after attending the same seminar.  Going to that seminar was one of the smartest financial decisions we ever made, and we are now very happy in our own home!
Thank you again for the wonderful service that you provide!"
-Curvature Employee
---
After-Work Home Buying Fair at Deckers Rotunda
Almost 200 local employees arrived at the Deckers Rotunda after work last Wednesday for an evening that included learning about the home buying process, networking with real estate professionals, and eating delicious tacos.
Coastal Housing Partnership's Home Buying Fair brought in professionals from both Santa Barbara and Ventura counties to help guide local employees on their paths to homeownership. Among the dozens of vendors were lenders, real estate agents, and new residential construction representatives. Tacos and cookies served as an easy ice breaker for prospective homeowners to chat with a range of exhibitors and find the right lender, real estate agent, or new residential community for them. In addition to networking in the beautiful Deckers Rotunda, attendees had the opportunity to learn from three educational panels throughout the event.
About 90% of attendees are planning on purchasing a home in the next year, and more than 90% of them say they left the event feeling more prepared for the process. One vendor said it was the best Home Buying Fair yet. Maybe it's us, maybe it's the tacos, but we hope to see you at a Home Buying Fair in 2019!